Happy Mothers Day Everyone ! Angelina Jolie's brood is up to six children, all under the age of seven—including twins Knox Leon and Vivienne Marcheline (at left) who were born in France last July. The twins join brothers Maddox, 6 and Pax, 4 and sisters Zahara, 3 and Shiloh, 2. "It is chaos, but we are managing it and having a wonderful time," said Jolie.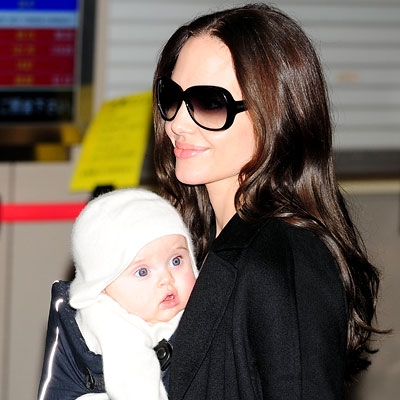 Angelina Jolie | Amazing Images www.supiri.com
Jennifer Lopez
This is a milestone year for Jennifer Lopez whose twins Max (at left) and Emme recently turned one and who will celebrate her five-year anniversary with husband Marc Anthony in June. The megastar takes every opportunity to be with the twins, including when she's getting her makeup done. "I try to put them on my lap and the makeup artist is like, 'Can you move her?' And I'm like, 'No! I have to have two babies on my lap!'"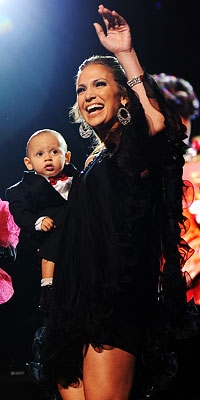 Nicole Kidman
Last July Nicole Kidman gave birth to daughter Sunday Rose—her first child with country-star husband Keith Urban—and has toyed with the idea of making motherhood her full-time job. "I'm 41 years old and very happy being in Tennessee with my baby and my husband," said Kidman who is now a mother of three. "I'm not saying I'm never going to work again, but I'm at peace with whatever happens."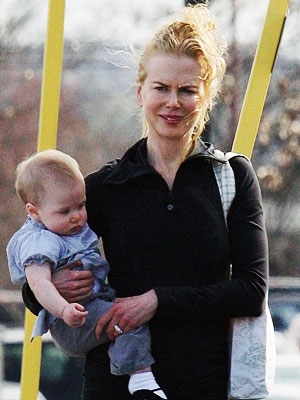 Halle Berry
Oscar-winning actress Halle Berry has a little less time to spend on herself since her one-year-old daughter Nahla was born. Even while taking a short break from acting, she and her partner Gabrielle Aubry have their hands full. "Now all my efforts are for the baby," she said. "I don't do my hair much anymore, but I do hers all the time!"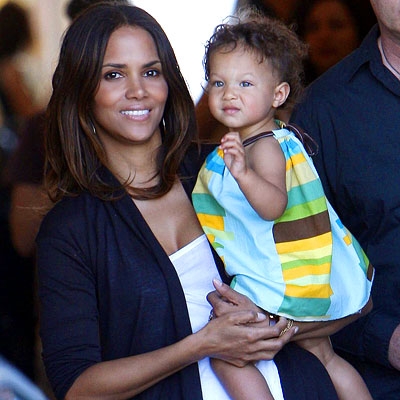 Jessica Alba
"She's the love of my life," says Jessica Alba of her 10-month-old daughter Honor. "The love is profound. She gives everything more meaning." The actress and husband Cash Warren are enjoying parenthood and have settled nicely into their new life and family-friendly home in L.A.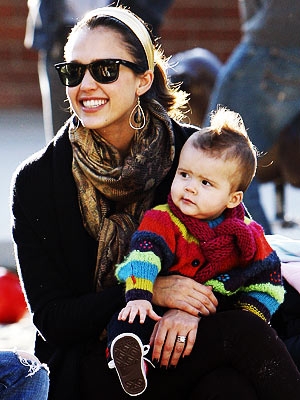 Katie Holmes
Whether she's performing on Broadway or attending dance class in L.A., Holmes most often has her daughter Suri Cruise (father is Tom Cruise) in tow. The well-traveled three-year-old always looks stylishly adorable thanks to her trendsetting mom who is currently working on a clothing line for young girls with friend and stylist Jeanne Yang.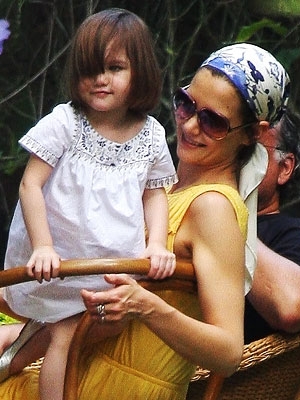 Courteney Cox Arquette
Busy actress Courteney Cox Arquette always makes time in her hectic schedule for her family, like she did on this Saturday spent with husband David Arquette and four-year-old Coco at a pumpkin patch in West Hollywood. "Courteney has always been a nurturer," says Arquette. "But to see her juggle a baby on top of everything else is just amazing." The couple named their daughter after Cox's mother (also Courteney Cox) who was endearingly nicknamed Mama Coco by Cox's friends.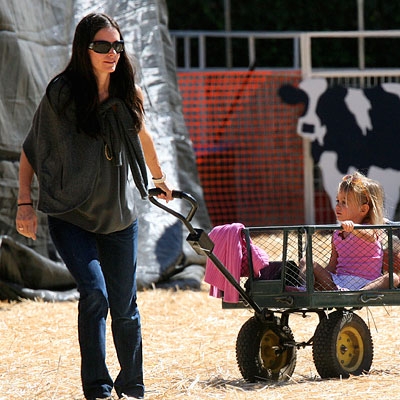 Julia Roberts
"I've gained a special appreciation for my mom now that I'm a mother," Julia Roberts says. "I hope I can inspire compassion in my kids." Roberts has three children with her husband Danny Moder, four-year-old twins Hazel and Phinnaeus, and Henry, who will be two in June.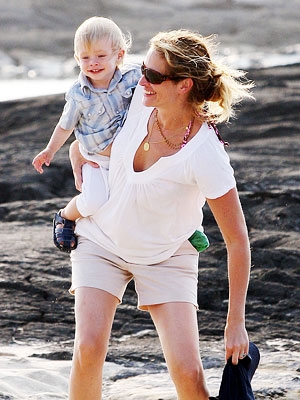 Sarah Jessica Parker
Real life is a far cry from Sarah Jessica Parker's Sex and the City character. Instead of sipping cosmopolitans, the devoted mother and her six-year-old son James Wilkie Broderick (with husband of over 10 years, Matthew Broderick) are most often spotted spending time together around their Manhattan home. "Honestly, I love to do everything with him as long as he will have me around," Parker says. "Even brushing his teeth with him is enjoyable right now."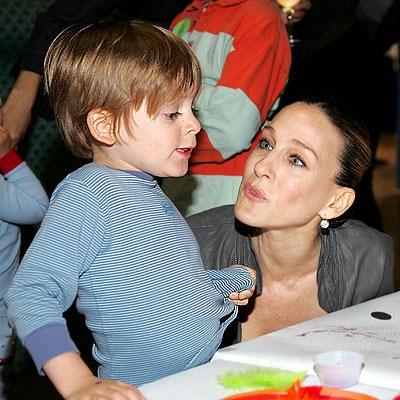 Gwen Stefani
When Gwen Stefani isn't busy cutting records or designing her next L.A.M.B. line, she can often be spotted playing with sons Zuma, 8 months and Kingston, 2 at the park. Even when she goes on tour with No Doubt this summer, the little tykes are coming too. "Pack up the babies and get a bunch of nannies. So fun!" she said.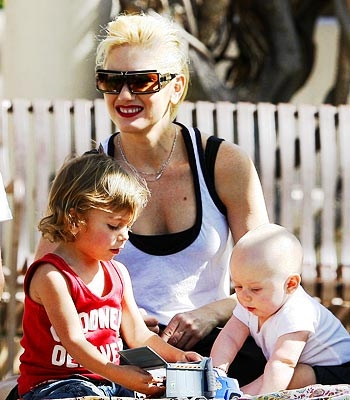 Cate Blanchett
The Oscar-winning actress deserves yet another award for balancing a busy family of boys—Dashiell, 7, Roman, 5 and Ignatius Martin,1—with husband Andrew Upton. Just six days after Ignatius was born in April, Blanchett brought him to the Australia 2020 forum in Canberra. "It is a measure of my belief in the weekend that I am here at all," Blanchett said. "As you could imagine, I would rather be in bed."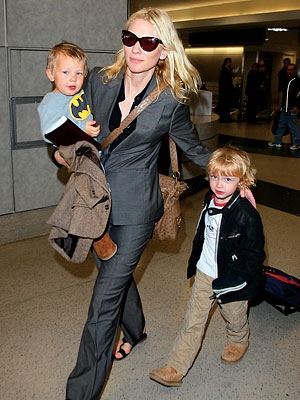 Marcia Cross
Desperate Housewives star, Marcia Cross, takes her twin daughters Eden and Savannah almost everywhere with her, including for some playtime at a park in Santa Monica. They go to work too, where Cross plays mother Bree Van de Kamp on the primetime show. "If I have two long work days in a row, it's too long for us to be apart," she has said. "When they come, a hush falls over the room and everybody lights up. It's amazing."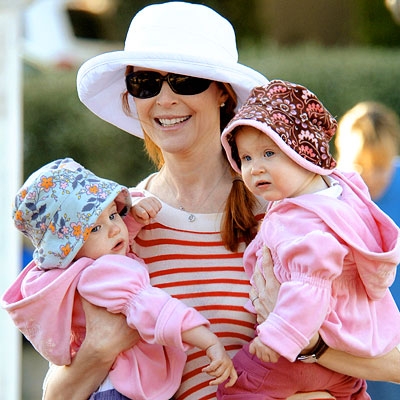 Gwyneth Paltrow
After taking a hiatus to stay home with her kids, the proud mother of daughter Apple, 4 and son Moses, 2 (father is Coldplay frontman Chris Martin) has returned to acting with a sense of balance for her family and her future in Hollywood. "I was very happy being a mother for three years, and I honestly didn't know if the fire would ever come back," Paltrow says. "But I realized that it's okay for me to want to express this part of myself. It's why I'm here."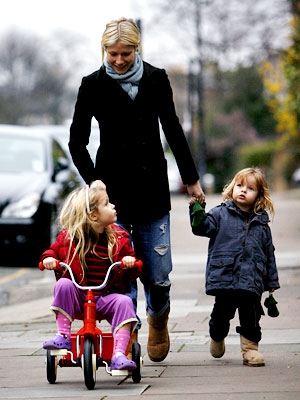 Reese Witherspoon
She may be an Oscar-winning actress, but the mother-of-two (Deacon, 5 and Ava, 9) has recently ventured into the land of animation, lending her voice to the cartoon comedy, Monsters vs. Aliens. "It's nice to be able to go to a movie that's okay for kids, but it also has some adult humor in it," she says. "It's great to do those movies, because I have to watch a lot of them."
Salma Hayek
Salma Hayek welcomed her first child, Valentina Pinault (with husband Francois Henri Pinault) back in September, 2007. "Valentina has a big personality," the 42-year old mom says. "The day after she was born everybody was very surprised that she was making noises and always smiling and laughing."
Victoria Beckham
Don't let Posh's impeccable style fool you—she's a hands-on mom and a fixture at all her boys' soccer matches, including those of husband David Beckham. The striking couple have three sons— Cruz, 4 (at left), Romeo, 6 and Brooklyn, 10—and often have playdates with other Hollywood families like Katie Holmes and Tom Cruise and Heidi Klum and Seal.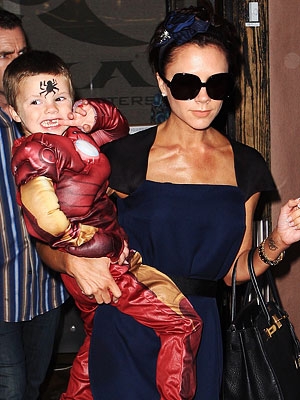 Kate Hudson
If you see Kate Hudson out biking, running or playing on the beach, odds are her five-year-old son Ryder is not far behind. "It makes you never want to work again," she says of motherhood. "I have to wrap my head around the work prospects because I realize what it takes me away from."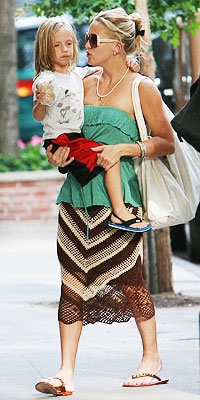 Madonna
Even with her family life in the public eye, the music icon never seems to miss a beat in her role as mom. She adopted her son David Banda, 3 (at left) from Malawi in 2006, making it three children for the star who has a 12-year-old daughter, Lourdes and son Rocco who is eight.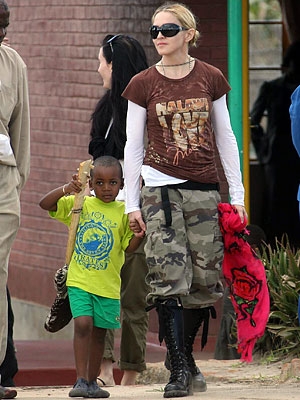 Information Source:  www.instyle.com
Article Credits:  Instyle.com