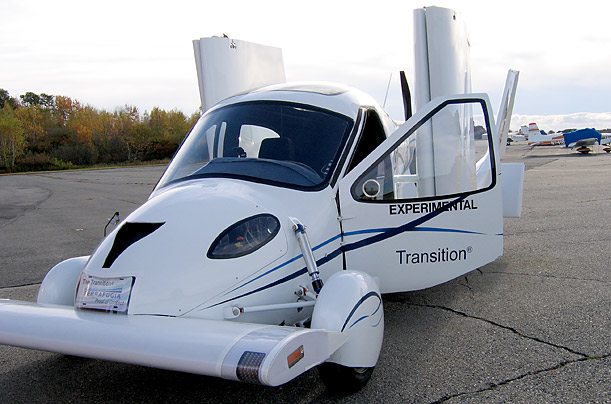 Meet the Future
Terrafugia, a 2006 start-up, has developed a craft that can be flown by properly licensed pilots and driven on any road. They have named their creation the "Transition".Versatile
Transition would give its owners extraordinary travel flexibility. If, while in flight, the craft encounters bad weather, the pilot can land and continue on his way by ground. At destination airports the pilot can fold the wings and drive off the airfield without having to move bags or arrange for additional transportation.
In the Air
On March 5, 2009 the Terrafugia team successfully flew the Transition over Plattsburgh, New York.
All-Around
The Transition can take off or land at any general aviation airport with at least 2,500 feet of runway, which means it can be used at the majority of the approximately 5,000 public airports in the United States.
Handy
Once on the ground, the vehicle's wings require only 30 seconds to fold. At the same time, the vehicle shifts engine power to the front wheels.
Road Worthy
Though many early attempts to create a flying car have failed, the engineers at Terrafugia feel they have overcome the limitations of earlier models by using modern engines, composite materials, and computer-based avionics.
Gas Up
The Transition runs on premium unleaded automobile gas. Terrafugia estimates that it gets 30 miles per gallon, at standard highway speeds.
Storage
With its wings folded, the Transition fits in a single car garage.
The Team
Terrafugia comprises a group of award-winning MIT-trained aeronautical engineers and MBA's — who also happen to be passionate private pilots.
Get Ready
First customer delivery of a Transition Roadable Aircraft is expected to occur in 2011.